Heartland's I'm Kind Of A BIG Deal
Welcome to our newest member of the family…
Born 2/18/15
Clooney X Lyric
The BIG Litter
"DAPHNE"
http://k9data.com/pedigree.asp?ID=658591
Daphne…where do I start?  She is a quiet spitfire.  Yes, maybe a little sneaky and ornery.  She turned 1 year old in February 2016 and has gotten out into the breed ring several times this year.  I see a nice show career in her future and she definitely carries the Harborview Golden genes to the extreme.  She loves to swim and has since her first time at 16 weeks when she jumped in the pond and just started swimming.  Looking forward to who she will turn out to be. 
Daphne 9 weeks
Daphne 3 months
Sadly, Roxie went to the Rainbow Bridge 11/2/21.  My heart will never be the same.
"Roxie"
Heartland's She's a Bad Mama Jama
http://www.k9data.com/pedigree.asp?ID=615510
Roxie has been special from day one.  They only girl in her litter and very loving.  She has slept with me since the day her litter mates went home at 8 weeks.  She has been less trouble than any other dog I have ever had and whenever you see Roxie, she is smiling and wagging her tail.  All the time!
Roxie has had some breed ring experience and is just beginning to get back out to compete.  She will be 2 years old in July.  She is fast, loves to fetch, swim, run, and cuddle.  Most nights you can find her practically laying on my head.  Never far from me at night. 
I look forward to doing more with Roxie and experiencing many more good times with her. 
Roxie at 9 weeks
May 2015 (10 months)
1 Year old.  July 2015 Swimming fun.
Indy Classic Feb 2015
Roxie 14 months
May 22, 2016 Lyric gave birth to her final litter! 

She is now retired and living the life of a queen. 
"Lyric"  
UKC CH Glaciers Song Of The Heartland Journey
(pedigree) http://k9data.com/fivegen.asp?ID=404894
Lyric arrived in Indiana 4:29pm 10/6/10. 
She comes from Glacier Goldens in Eckert, Colorado (Clark Martin) 
Tired and a little scared but perked up right away. 
She is spunky and shows lots promise even at a young age. 
Look for great things from this Colorado girl. 
Thanks Clark for the opportunity. 
Lyric has been a joy to watch grow over the past 5 years.  She has a great temperament and is just a big cuddle pup.  She loves to swim and run (when it is her idea).  She has not been in the show ring in a while because she just does not seem to enjoy it.  If a dog could roll their eyes, Lyric would be that dog when she is told there is a dog show.  She is a wonderful mother.  I look forward to many more years with this girl.   
Lyric is co-owned by:
Laura Wilson:  Golden Journey Retrievers
(www.goldenjourneyretrievers.com)
&
Amy Clark:  Hoosier Heartland Goldens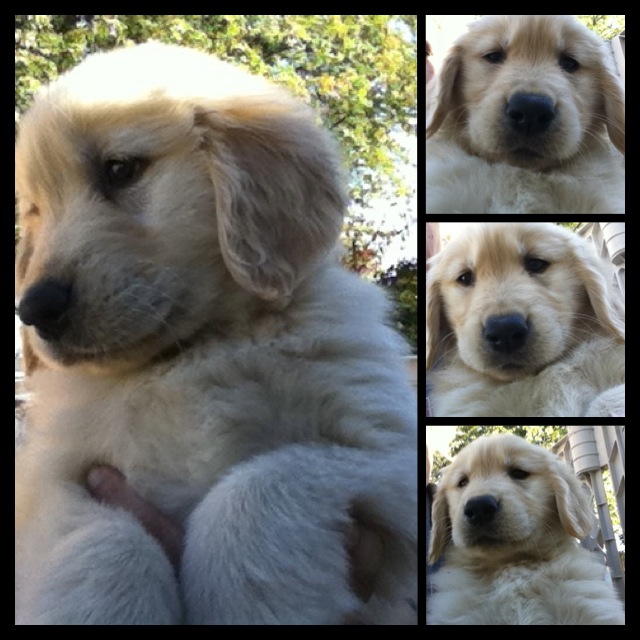 Lyric @ 8 weeks
Lyric (12 weeks) won BOB in Sanction B Match Ft. Wayne, IN show as well as 3rd in Group!!!!  Great Job Lyric Lu Lu.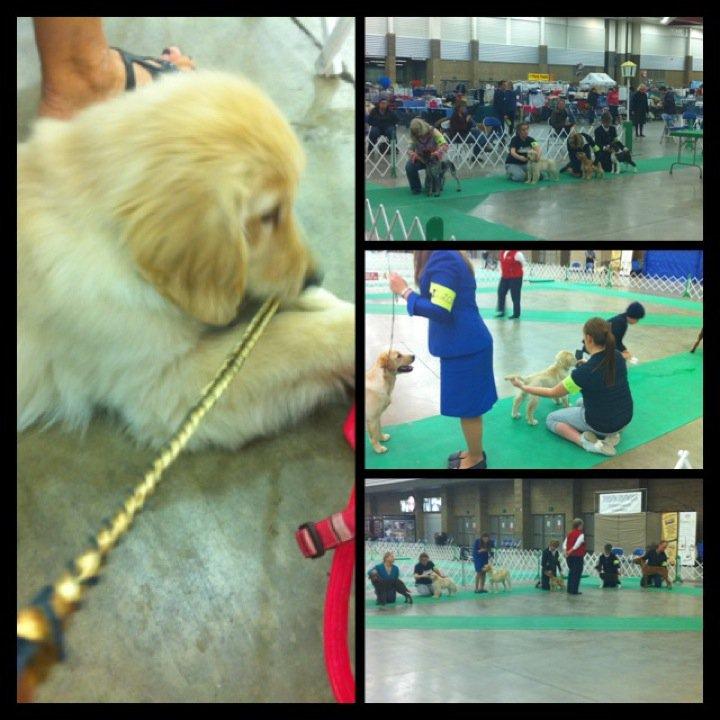 12 weeks Ft. Wayne Show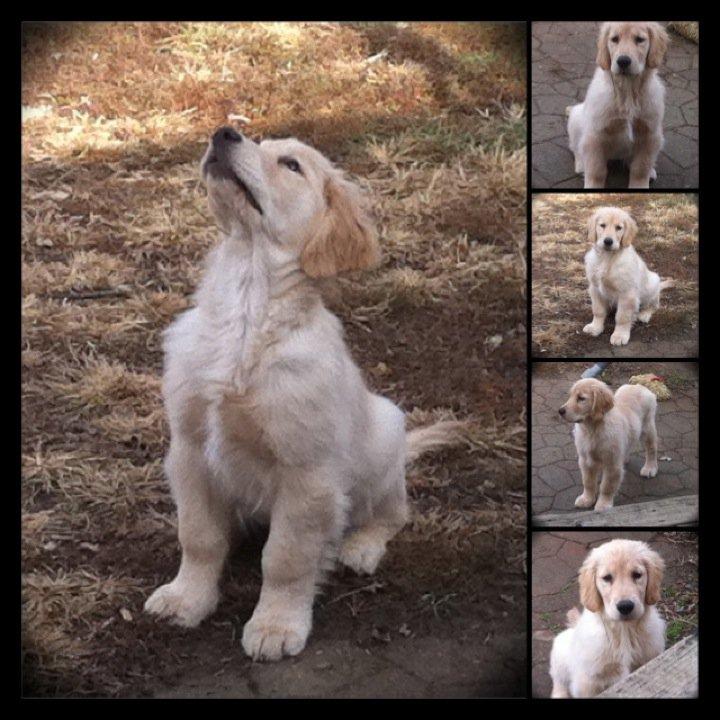 Lyric 13 weeks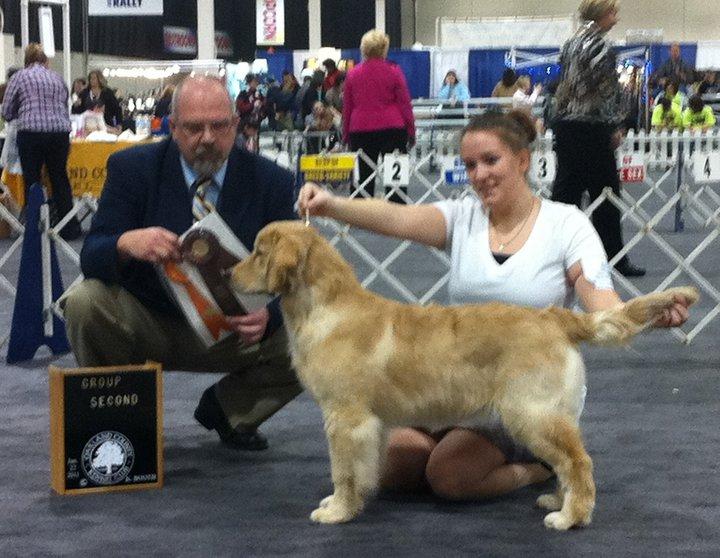 Lyric 5 months
She took BOB and a Group 2 at the Novi, MI Sanction A Match 1/22/11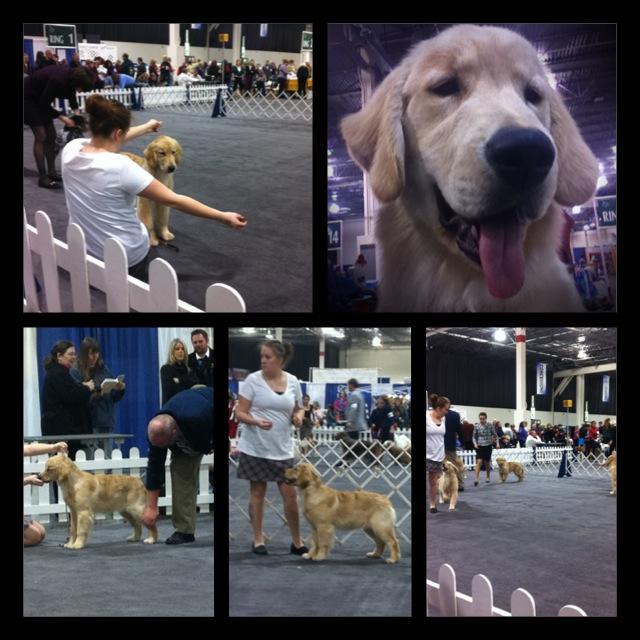 Lyric 5 Months
Novi, MI show January 21-23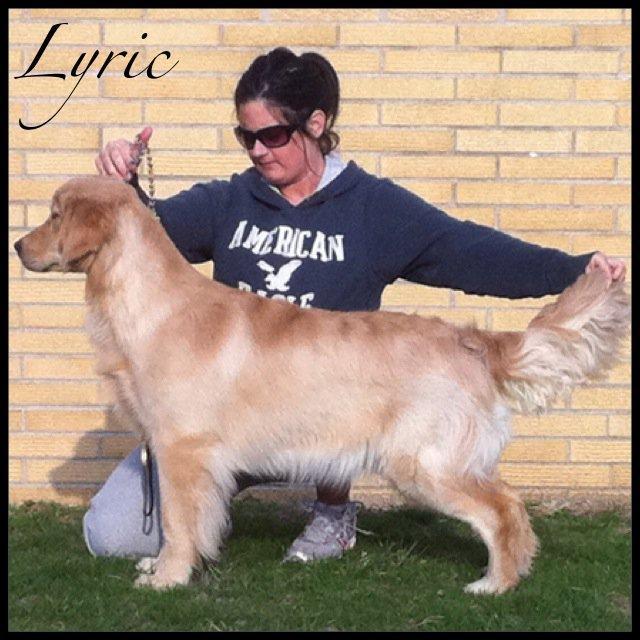 8 Months old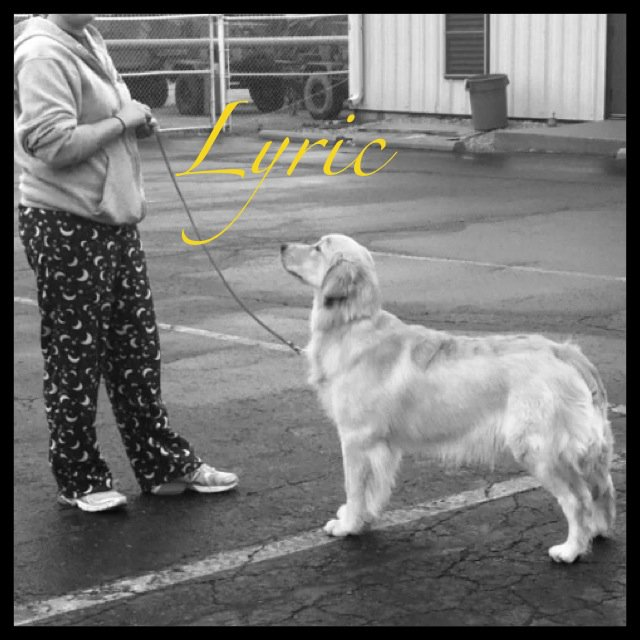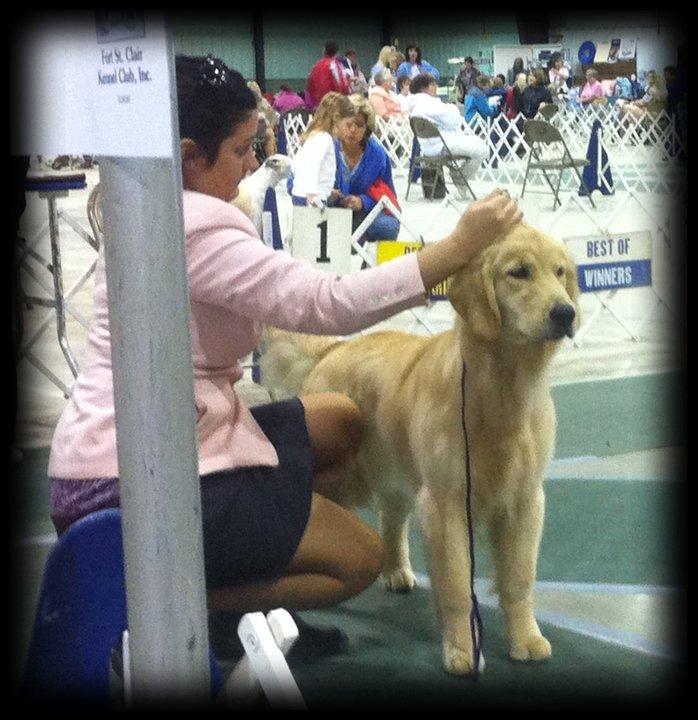 Eaton, OH show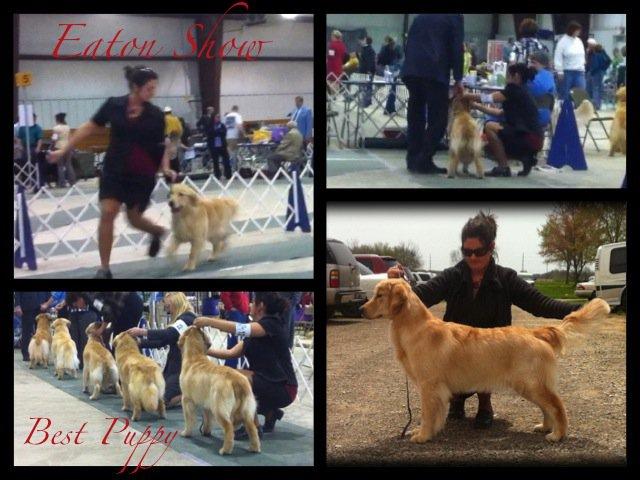 Eaton, OH Show (Best Puppy) Class Win 4/30/2011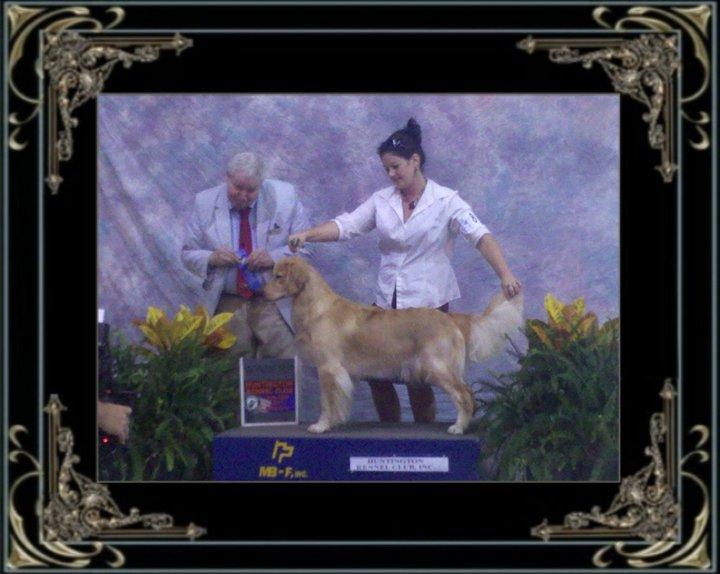 "Winners Bitch" Huntington, WV Show July 2010 (age 11 months)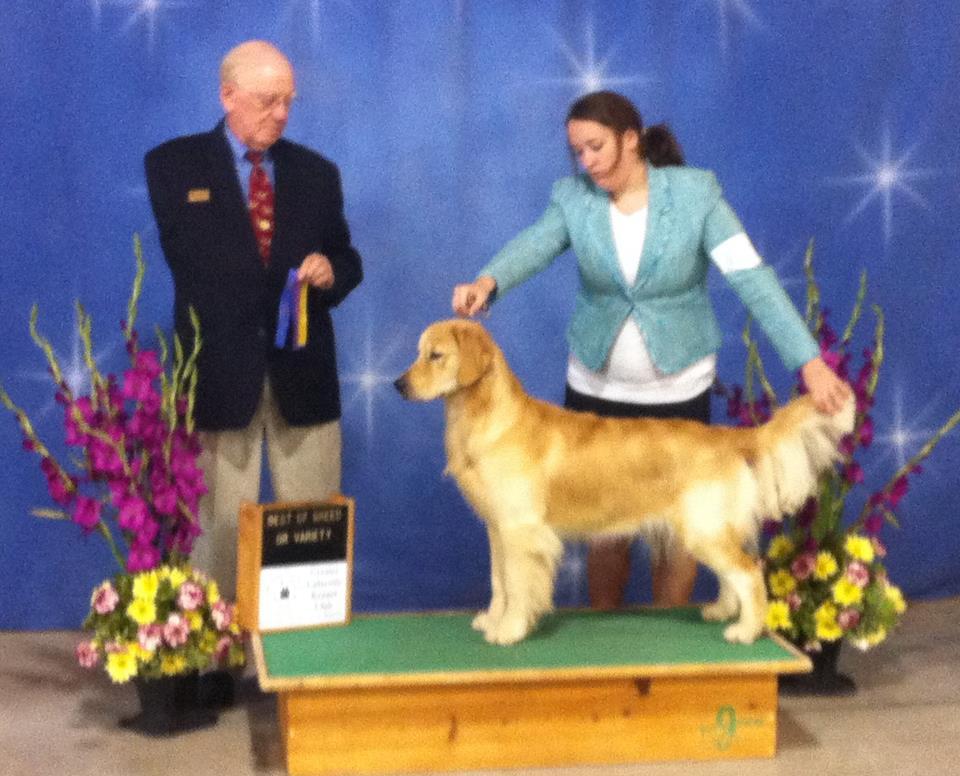 "BOB" and "Winners Bitch" Greater Lafayette KC Show, Lebanon, IN September 2011 (age 13 months)
First UKC Show (LaPorte, IN) November 5/6 2011
Saturday Show 1:  Class 1st/Best Female   Show 2:  Class 1st/Best Female/BOB (over 3 Champions)/Group 4
Sunday Show 1:  Class 1st/Best Female  Show 2:  Class 1st/Best Female/BOB (over3 Champions again)/Group 4
Very proud of my puppy girl!
Lyric became UKC Champion in Elkhart, IN UKC Show January 2012!!!!
Indy Classic February 2012
First time in AM BRED Class (18mo)
KOKOMO KENNEL CLUB (5/19/2012) WB/BOS
AM BRED Class win
21 months old
3 1/2 years old.
Indy Winter Classic Am Bred Class
Zoe Mae 1/12/03 – 6/19/17
Where does one begin to morn the death of her heart?  That's that Zoe was to me.  My HEART dog.  Never pushy, never demanding bu Ever faithful.  She knew my pains and aches.  She knew my depression and sadness.  What a wonderful soul.  She lived 14.5 years and gave me wonderful JOY!  I couldn't ask for more from a furry friend.  I miss her so much.
"Lilly's Journey 4 Amazing Grace" Lilly 8/29/07 – 5/25/17
Words cannot express the sadness I feel after losing such a loving girl.  Lilly gave me so much joy and was such a Blessing my life. I Miss her terribly and will always!!!!!!!
My heart is in pieces and it will be years until it starts to heal.  There will never be another like my Lilly Grace.